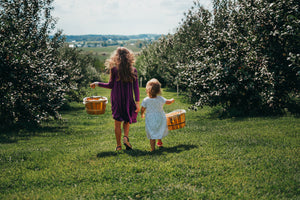 A Better Way to Fundraise
Quality, Value, and Service
Raise Funds with a Program You Can Take Pride In
Tired of fundraisers that are overpriced and don't provide value for your customers? Our fundraising programs are convenient, profitable, and empower you to sell products you're proud to deliver. Your organization can raise the funds it needs with products your supporters will love.
SPRING 2024
Plan Your Next Fundraiser
We are preparing to begin signups for our spring fundraising season, featuring fresh apples, pears, citrus, and an assortment of delicious snack products. Click below to contact us for more information about signing up for the program, or click "Explore Fundraising" at the top of the page to discover how our fundraisers work.
A Legacy of Better Fundraising
We've been working hard for over 40 years to make fundraising a better, simpler experience for customers all over the Midwest. Learn more about our history and meet our team at the link below.
Our Story
OUR PRODUCTS
Premium Products Your Supporters Will Love
Our fundraising program has always been built on delicious, premium products. Unlike some fundraising programs, we offer fresh, healthy fruit along with quality snacks to create a line of items that your supporters will want to buy.