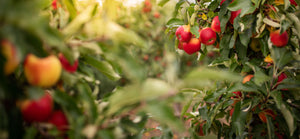 A Fundraiser Is Only As Good As Its Products
Mixed Boxes
Fresh Fruit for Everyone
Customers often say that our fresh fruit is consistently better than anything they can find at their local grocery store. Our reputation for quality is paired with convenience in our distinct line of mixed boxes, each containing a unique combination of fresh apples, pears and citrus at an excellent value your customers are sure to love. Select premium mixed boxes include honeycrisp apples and Sumo Citrus® mandarins.
For a full listing of all of our exact products and available sizes, please click below.
Our fall and spring fundraisers each feature high quality apples and pears shipped directly from Washington and Oregon. Available in straight boxes, these products are a great addition to our mixed box program.
Our boxes of sweet, juicy citrus were the foundation of our fundraising program over 40 years ago and remain a cornerstone today. Oranges are grown in central California, and our red grapefruit comes from south Texas.
As the hallmark of our summer sale, our fresh peaches are a delicious and exciting option for your supporters. Our peaches come from Colorado and Georgia, two of the best sources in the country for summer sweetness.
Cheese
Award Winning Cheese Spreads
If you've been fortunate enough to taste the selection of cheese spreads from Pine River, you won't be surprised to learn they have won numerous awards for their outstanding quality and taste. Give them a try on your next order!
Our cheese program also includes our conveniently packaged mozzarella String Cheese and our Cheese Lover's Delight box. Both are great gifts, but you may want to keep them for yourself!
MEAT SNACKS
Premium Sticks, Sausage & Jerky
We take pride in partnering with the best local suppliers to provide a superior meat snack experience. Your customers will really smile when these great products are combined with a value that's unmatched in fundraising. Our Beef Sticks are consistent best sellers year after year, and the smaller package of Smokey Snack Sticks are a tempting add-on to a box of fruit.
NUTS
Delectable Mixed Nuts, Cashews & Chocolate Covered
Our premium nut products are good...actually, they're really good. Cashews that look like cashews--not a bag of broken pieces. Gourmet Mixed Nuts without peanuts as filler, and the Chocolate Covered Mixed Nuts? Well, let's just say that even if you're not planning to share, you might want an extra bag. If you've tried them, you know.
Each nut selection comes in an attractive box that makes them great gifts, especially for the Christmas holiday season.
Looking for Meat, Cheese & Nut Nutrition Facts?
If you have questions about one of our meat, cheese, or nut products, you can find complete nutrition and allergen information at the page linked below.
Get Your Fundraiser Started Today
A great fundraiser combines delicious products with excellent service. Learn more, or get in contact with us below.
Explore Fundraising
Contact Us