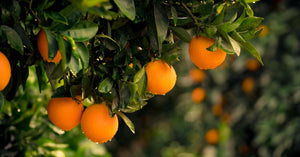 A History of Quality Fruit
A Legacy of Better Fundraising
Our Story
Getting Our Start
In the winter of 1978, Maynard and Evelyn Johnson (pictured), the parents of our three founding brothers, began spending their winter months in the south Texas Rio Grande Valley. Never one to sit still, Maynard was intrigued by the citrus groves for sale. He soon purchased one, and then another. Before long, his holdings amounted to several hundred acres.

In search of a better market for their fruit, Minntex Citrus was born in January of 1981. Brothers Woody, Bud and Chuck, began calling on groups and organizations in the southern Minnesota area to sell Texas grapefruit and oranges for fundraising projects—hence the name Minn-Tex. The initial response was very encouraging, and the business was on its way.
Our Story Continues
A Family Enterprise
After the brothers lost their father, Maynard, unexpectedly in 1983, the family sold most of the Texas groves, but Minntex continued to provide fundraising organizations with high quality citrus directly from the packing houses.

By the end of the 1990s, Minntex was operating two full-scale operations in Minnesota and Iowa, servicing most of the Midwest. In Minnesota, Woody's son, Matt joined the company after graduating college in 2001 to run the business alongside his father. The business remains in the family to this day.
TODAY, AND...
Looking to the Future
In the summer of 2018, the Minnesota Minntex operation began work on an online platform that would change the way fundraising was done. When the COVID-19 pandemic clouded the landscape for schools and other youth organizations, myfruitsale.com was ready. Organizations now had the freedom to manage their entire fundraiser in a centralized location that everyone could access from their device.

Over the next few years, myfruitsale.com continued to become a larger part of our fundraising program, and in 2023 we began operating under the myfruitsale.com name. Our team remains passionate about creating opportunity through fundraising and we continue to innovate and invest in making our customers' fundraising experience better. We take pride in our program that delivers healthy, quality products at reasonable prices with excellent service—a unique and special combination that sets us apart.
A Better Way to Fundraise
A Program You Can Be Proud Of
Our approach is noticeably different from most of what you'll find in the world of fundraising. Our mission is to provide our customers with a strategic combination of three things - Quality, Value, and Service. Here's what we mean by that…
Explore a Better Way to Fundraise
Experience how this combination of Quality, Value and Service can offer your organization a simpler, smarter fundraising opportunity.
Learn More
Contact Us
Meet Our Team
Send us a message or give us a call. We'd love to chat about your fundraising needs!
Our Warehouse Crew
Three times a year, members of our local community fill our warehouse as valued employees to inspect and pack fruit for our customers. We are blessed each season with faithful crew members, including some who have been been with us for decades. We could never deliver on our promises without these amazing members of our team!